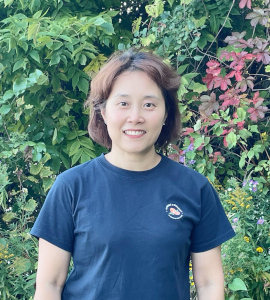 Jacqueline graduated with honors from the University of Toronto with a Bachelor of Science Degree in Biochemistry in 1995, before pursuing her career in Traditional Chinese Medicine. She trained in China while studying a Bachelor Degree of Chinese Medicine & Biomedical Sciences from the Hong Kong Baptist University. She also holds a Master of Science Degree in Nutrition, Food Science & Technology and a Master of Science in Chinese Medicine from the Chinese University in Hong Kong. Jacqueline is registered with the College of Traditional Chinese Medicine Practitioners and Acupuncturists of Ontario (CTCMPAO) as a Registered Traditional Chinese Medicine Practitioner and Acupuncturist (RTCMP & RAc). Jacqueline joined the Bellesmere Massage Therapy team in 2017.
Jacqueline has worked in hospital settings in both the Guangzhou Provincial Hospital and the Pok Oi Hospital in Hong Kong. She believes that every patient is unique, so their treatment plan should be unique as well. She draws on her experience in working with patients in a variety of healthcare areas including dermatology, obstetrics, gynecology, internal medicine and pediatrics. Jacqueline is an insightful practitioner and works closely with clients to create customized treatment plans to obtain a healthy bodily balance.
Jacqueline goes beyond solely treating symptoms by evaluating the whole person, both physically and psychologically. She takes a holistic approach to working with her clients, adjusting the Yin & Yang energy patterns and the Qi (Chi energy) for optimal health of mind-body-spirit.
Jacqueline teaches at the Royal North American College of TCM (Traditional Chinese Medicine) to nurture more people who are interested in pursuing a career in TCM. She also serves as a guest host of a TCM radio session and conducts health seminars for non-profit organizations, nursing homes and community organizations to promote awareness of the benefits from TCM treatments.
Jacqueline is fluent in English, Cantonese and Mandarin
Areas of Specialty:
Traditional Chinese Medicine
Restorative Health
Postural Restrictions
Skin Conditions
Surgical Recovery
Stroke Rehabilitation
Menstrual Issues
Joint Pain
Mind-Body-Spiritual Balanced Health
Certifications, Studies and Workshops:
Internal Medicine of Traditional Chinese Medicine – Advanced Level
Zhang's Acupuncture Technique
Prof. Huang Huang's Clinical Application of TCM Classic Formulae (Toronto) & Classic Formulae for Insomnia
Prof. Chai Tie Qu's Huangdi Neijing & Nanjing studies
Registered Traditional Chinese Medicine Practitioner and Acupuncturist (RTCMP & R Ac) of CTCMPAO
Master of Science in Chinese Medicine, the Chinese University of Hong Kong
Master of Science in Nutrition, Food Science & Technology, the Chinese University of Hong Kong
Bachelor of Chinese Medicine and Bachelor of Science in Biomedical Science (Honours), Hong Kong Baptist University
Bachelor of Science in Biochemistry, University of Toronto